B & J has developed a reputation as being the "one stop shop" for site development as we can manage and construct the site from start to finish.
B & J Contracting specializes in road and sewer reconstruction. We have worked for many clients in the municipal sector and are known for our knowledge and ability to work in heavily congested areas. We complete each job on time and on budget.
Our work ranges in size from 6" P.V.C. pipe to large diameter C.P.P. pressure pipe and ductile. B & J Contracting has completed many large concrete pipe jobs, which have given us a strong reputation as leaders in the industry.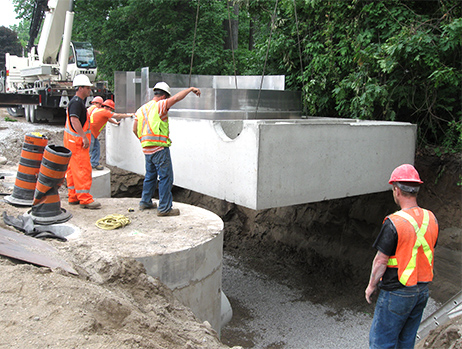 With our team of experienced foreman and grademen, specialized equipment and highly skilled operators, B & J is able to build any size road from a small cul-de-sac to a multi-lane city road and everything in between.
B & J Contracting has over 25 years of marine experience and the ability to perform many tasks from small to large dredging projects. We excel at shoreline protection, which includes: steel walls, armor stone, river stone, gabion stone as well as concrete cable mat erosion protection.
LETS GET THIS PROJECT STARTED.
B & J Contracting has completed many bulk earth jobs, many of our contracts require excavation as part of the job; moving material on site or off, cut to fills and engineered fill. We have a fleet of both on and off road trucks for any application.
B & J was the first company in Ontario to successfully complete the demanding task of micro tunneling a large diameter (600mm) water main under a 400 series highway. The project was completed in Barrie under Highway 400 West of Anne Street over pass, on line and on grade.
We have also completed many projects with directional drill and jack and bores under major roads, creeks/rivers, railways and environmentally protected areas.
We Can Help With Your Next Project